We have developed these modules to support your continuing professional development as a health professional. They are suitable for a range of health professionals, particularly those with prescribing rights.
Based on Quality Use of Medicines principles, these modules will support you in selecting the most appropriate treatment in consultation with your patient, and assisting your patients in using their medicines safely and wisely. In other words, to help you on your journey as a "medicinewise practitioner".
View the learning outcomes.
Target audience: Nurse practitioners, GP interns and new prescribers in a community setting
Open to: GPs, Pharmacists, Nurses, Students
Cost: Free
CPD points: Nurses - view details
Getting started
Use this simple system test to check if your computer is ready to run this course.
Select your patient
We have created several different patients so that you can focus your learning on the areas that interest you most. Select the modules you would like to complete by clicking on the patient images below.
Patient

Start

Description

Topics covered

Belinda



Belinda is a 22-year-old with schizophrenia and lifestyle issues.

Weight management & diabetes monitoring
Schizophrenia relapse prevention
Sexual health & complementary medicines
Binge drinking and illicit drug use

Benji & Bridgit



Benji is a 3-year-old boy presenting with

shortness of breath

at the local hospital

Emergency Department.

Asthma management - part 1
Asthma management - part 2
Immunisation
Smoking cessation (Bridgit)

Bill



Bill is a 55-year-old man with type 2 diabetes.




**Newly revised and updated in March 2017**

Diabetes management
Diabetes again
Diabetes foot care
Renal impairment
Earn professional development points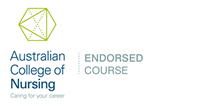 These activities are endorsed by ACN according to our Continuing Professional Development (CPD) Endorsed Course Standards. Each activity has been allocated 2 CPD hours according to the Nursing and Midwifery Board of Australia - Continuing Professional Development Standard.
---