The National Prescribing Curriculum (NPC)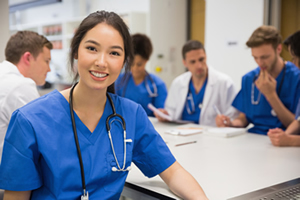 The NPC is a series of online, case-based modules designed to improve prescribing performance and confidence in emerging Australian prescribers. The modules mirror the decision-making process outlined in the WHO Guide to Good Prescribing:
setting therapeutic goals for a particular patient
deciding on a therapeutic approach (including considering non-drug options)
if a drug is needed, choosing and checking the effectiveness, safety and appropriateness of the preferred agent for that individual patient
writing a prescription (if appropriate)
monitoring treatment of the patient, and
providing the patient with information, instructions and warnings.
The modules have been written and reviewed by clinical experts and are highly interactive and engaging for your students. They have been completely reviewed and updated, with a new drug formulary, Choosing Wisely recommendations added, and mapping to the Prescribing Competencies Framework.
---
The modules are situated in real life situations. For example, learners may follow a case through from hospital admission to discharge.
The modules include complex, authentic tasks. For example filling in current Australian prescriptions.
Sophisticated levels of feedback are provided throughout the modules from experts, and include feedback on both right and wrong answers.
The modules provide links to current evidence-based resources including NPS publications, Therapeutic Guidelines and Australian Medicines Handbook.
The modules are free to Australian institutions and NPS look after the administration, making it easy to for busy academics to fit our modules into their teaching schedule.
Students can print their own records of completion and certificates.
NPS MedicineWise can provide course co-ordinators with regular completion reports via an annual subscription.
---
The NPC modules can be used in a number of ways to develop your students' competence in rational prescribing:
Completing a particular module as preparation for a group discussion in class or in tutor groups.
Completing some modules in-class in small groups, so students can discuss the different issues and prescribing options.
Completing a selection of the modules as a course requirement.
Using the modules for revision, practice and preparation for assessment against the relevant prescribing competencies.
Setting as an assessment assignment the submission of the drug formulary students have built while completing the modules .
Setting as an assessment assignment the submission of prescriptions written for particular modules (conditions).
There are no set up requirements. Simply provide students with the link to the website, learn.nps.org.au, along with your instructions. Or see the Getting started guide.
Keep track of your students' progress and completion of the NPC modules via monthly completion reports. For further details, read more about reporting and costs here or call Heather Petrie on 02 8217 8669.
---
96% would recommend the NPC modules to their peers
95% found them engaging
90% reported the modules increased their confidence in prescribing
"Ample amounts of information. Good for actual clinical practice"
"Overall, the modules are fantastic; the cases are engaging and realistic, and the prescribing activity is very useful to cement my understanding. Also very useful to go through non-pharmacological management."
"Very useful to force you to learn about how to chart, where to look for drug of choice (eTG, AMH), commonly used drug for common cases, and as a stimulus to refresh knowledge about certain disease (using the provided resource or google)"
"The case studies give a good amount of context and actuality about them. The self-assessment quizzes at the end of the module were great consolidated. The feedback throughout the module was helpful."
---